31 décembre 2011
6
31
/

12
/

décembre
/

2011
05:35
Les années 2000 ont vu la naissance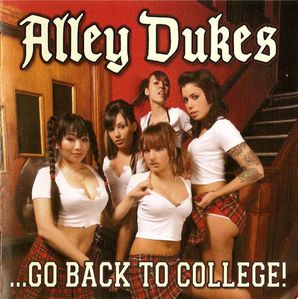 puis la disparition de nombreux groupes de Rockabilly et Rock 'n'roll, the Alley Dukes (une formation canadienne originaire de Montreal - Quebec) avec leur "pornobilly" fait partie de ceux là. Nous y trouvons Danny Duke (chant, ancien Ripcordz, Vulgar Deli), Marty Duke (contrebasse), Zak (guitare) et H.Rod (batterie) constituent le groupe final en 2002.
En 2005 sort leur premier album Northern Rednecks suivi d'un second en 2007 Go Back To College. Malgrés une importante popularité au Canada il se séparre en 2008. En 2010 Danny Duke reforme le groupe mais cela est une autre histoire.
Revenons de plus prés sur l'album Nothern Rednecks qui sort sur le label canadien Flying Saucer records, il commence par Slippin' And Slidin' un fabuleux rockabilly rapide qui raviera les amateurs de Slappe, Johnny D est un bon medium rockabilly, Drinkin' My Life Away est un medium néo rockabilly avec une mélodie digne d'un classique, A Way Out ici également une mélodie parfaite pour ce medium rockabilly, Goodbye Train trés bon rock 'n'roll revival dans l'esprit des meilleurs formations teddy Boys, Your Sister exeptionnel rockabilly sauvage à la guitare tranchante, Change My Way trés bon rockabilly teinté de country, She Gave Me An Itch un sympathique néo rockabilly western, Chockin The Chicken un instrumental néo rockabilly country avec solo de slappe, Black Magic un rockabilly au rythme tribal à la Bo Diddley, Look Somewhere Else est un néo rockabilly rapide teinté de Blues et de country, Endless Road est un néo country rockabilly et No More Hot Dogs est une cover de Asil Adkins. En conclusion un trés bon album à la fois moderne et traditionnel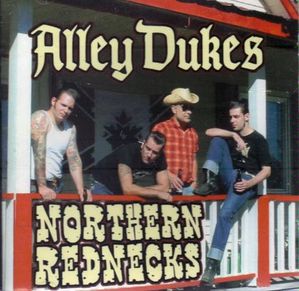 mettant l'accent sur le rythme et la mélodie tout en mixant leur rockabilly avec une pointe de country, incontournable.
Le second album Go back the College met l'accent par le biais de la pochette puis par le sujet des titres sur le goût prononcé des membres du groupe pour les films X. Le disque débute par You Can Suck My Balls un trés bon rockabilly rapide authentique, Circular Motion est un rockabilly authentique avec une bonne mélodie, Dirty White Girl est un rockin' blues, Shave That Poodle est un medium néo rockabilly, I Wanna Go Back To College est une superbe rockabilly authentique à l'intro lente, On My Face est une bonne ballade néo rockabilly country, Pimp est un néo rockabilly déjanté inspiré par Bo Diddley, Shes So Flat est un rockabilly teddy boys bien sauvage, Jailbait est un rockabilly mélodique teinté de western swing, Milkshake Queen est un rockabilly rapide, (I Broke Your Hymen) You Broke My Heart est un rockabilly medium authentique parfait est bien mené, Little Girls est un trés bon néo rockabilly rapide, Look Somewhere Else est un néo rockabilly teinté de country, Make The World A Better Place est un medium rockabilly et Cherries & Chocolate est un néo rockabilly western. En conclusion cet album est aussi réussi que le précédent avec en plus le côté décalé du mythe cher à l'amateur de rock (qui se veux intelligent) de l'album concept ici le concept tourne autour du film X.
The Alley Dukes - Shes So Flat
.
The Alley Dukes - You Can Suck My Balls
.
The Alley Dukes - Your Sister
.
The Alley Dukes - Black Magic
.
The Alley Dukes - Drinkin' My Life Away
.
.