17 septembre 2009
4
17
/

09
/

septembre
/

2009
20:35
Columbia records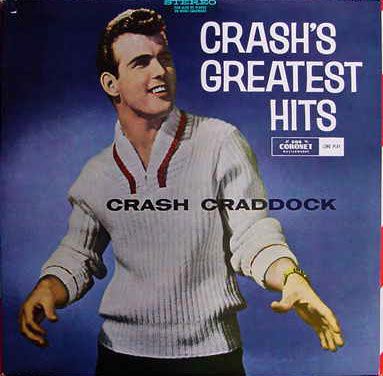 à trouvé dans Billy Crash Craddock un véritable rocker de talent de la trempe d'un Elvis Presley ou d'un Gene Vincent, mais il arrive trop tard et Billy sera une énorme vedette en Australie!!! Vendant 62 000 exemplaires de son Boom boom baby (cela équivaut à 1 500 000 copie aux USA).
William Craddock est originaire de Greensboro en Caroline du nord. A 11 ans il commence une carrière musicale à jouant dans le talent show de la station de TV locale. Il restera le gagnant du show durant 15 semaines conséqutives.
A 15 ans il rejoint le quartet The Four Rebels, qui passe dans des clubs locaux. Il se fait remarquer et signe un contrat par Columbia records. Il obtient quand même de nombreux tubes qui rentrent au top 40 australien comme Boom boom baby, mais aussi le génial I want that, Well don't you know, Letter of love, One last kiss et Good time billy. En plus de ces supernbes rock il enregistre aussi le classique Ah, Poor little baby une petite merveille!!
En Australie il a la popularité de Elvis Presley aux USA remplissant, les stades et les salles de concert. Sa popularité sera moindre aux USA, sans doute par ce que son styte vocal n'est pas sans rappeller quelques fois Elvis lui même.
Il prendra sa revanche les décennies suivante rentrant de nombreux titres au hit parade US mais en Country and western. Il rentrent au hit parade country américain entre 1971 et 1972 cinq titres: Knock Three Times, Dream Lover, You Better Move On, Ain't Nothin' Shakin' (But the Leaves on The Trees),and I'm Gonna Knock on Your Door fleurtant avec le pur rock n'roll des fifties (dont une reprise du succés d'Eddie Fontaine Nothin' shakin'.
Il signe ensuite pour ABC pour qui il fait un tube avec Rub it in en 1974 et un numéros 1 avec Ruby baby une reprise du classique doo wop des Drifters. Au total il obtiendra 18 titres au top ten entre 1971 et 1979
L'album indispensable est le Crash's greatest hits (pressage CBS australien) Klls 1666 qui contient tout ses tubes et d'autres moins connus tout aussi bons: Boom boom bay, Ah poor little baby, I want that, Letter of love, Sweetie pie, Good time billy (is a happiness fool), Heavenly love, One Last kiss, Don't destroy me, Is it true or false? (That i'm in love with you), All i want is you, et Well don't you know.
Billy "Crash" Craddock - Boom Boom Baby


Billy 'crash' Craddock-Heavenly Love


Billy Crash Craddock - Don't Destroy Me


Billy CRASH Craddock - Well don't you know


Billy ''Crash" Craddock - Sweetie Pie (stereo)



Billy Crash Craddock - Ah' Poor Little Baby