9 septembre 2009
3
09
/

09
/

septembre
/

2009
18:03
Ernie Maresca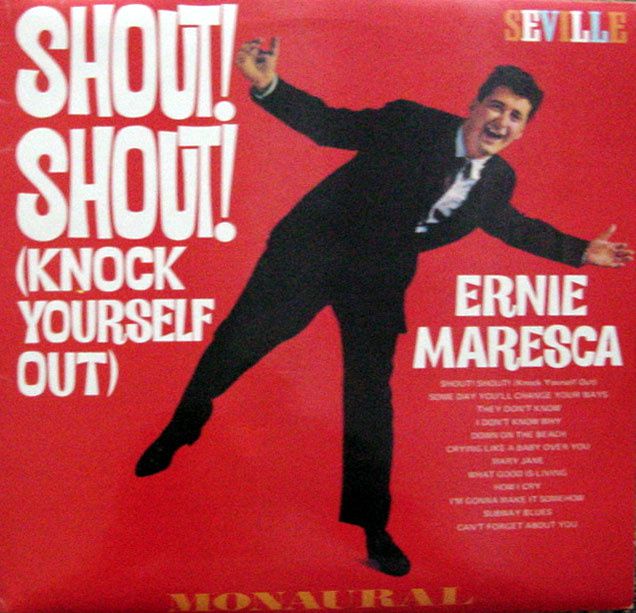 est un des compositeurs à succés de Doo wop /et de rock n'roll du dévbut des sixties. On lui doit
quelques un des plus gros hits de Dion comme Runaround Sue, The Wanderer, Lovers who Wander, A lover's prayer et Donna the prima donna, mais aussi Runaround pour les Regents, Whenever a teenager Cries pour Reparata & Delrons, Party girl pour Bernadette Carol et Child of clay pour Jimmie Rodgers.
En 1962 il se lance enfin comme chanteur et enregistre un trés bon album pour Seville Records qui lui permet d'obtenir un gros tube avec le titre phare Shout shout knock yourself out. Ce titre vraiment excellent n'est pas sans rappeller le Runaround sue qu'il a écrit pour Dion, rappelions la reprise des Chaussettes noires au début des années soixantes et celles des forbans qui obtiennent avec un méga tube en france au début des années 80 sous le titre Chante chante (et met tes basquettes).
Ce titre est aussi dans la mouvance rock des groupe comme Joey Dee and the Starlighters, il arrivera à la 6 eme place des charts. Ernie continu ensuite à enregistrer jusqu'en 1965 pour Seville, puis pour Laurie records.
Dans les années 1970's il passe à la tête du département publicité de Laurie Records, puis devient consultant pour Emi Records.
Le 33 tours Shout! shout! (Knock yourself out) de 1962 pour Seville records SEL 3, rééditté en 1982 est indispensable pour tout amateur de solides rock teinté de Doo wop. il contient: Shout! shout!, Some day you'll change your ways, They don't know, I don't know why, Down on the beach, Crying like a baby over you, Mary jane, What good is living, How i cry, I'm gonna make it somehow, Subway blues et Can't forget about you.
Ernie Maresca - Shout! Shout! Knock yourself out


Ernie Maresca- Down On The Beach



Ernie Maresca - Can´t forget about you


Ernie Maresca - I don't know why