15 juin 2009
1
15
/

06
/

juin
/

2009
18:26
Connie Francis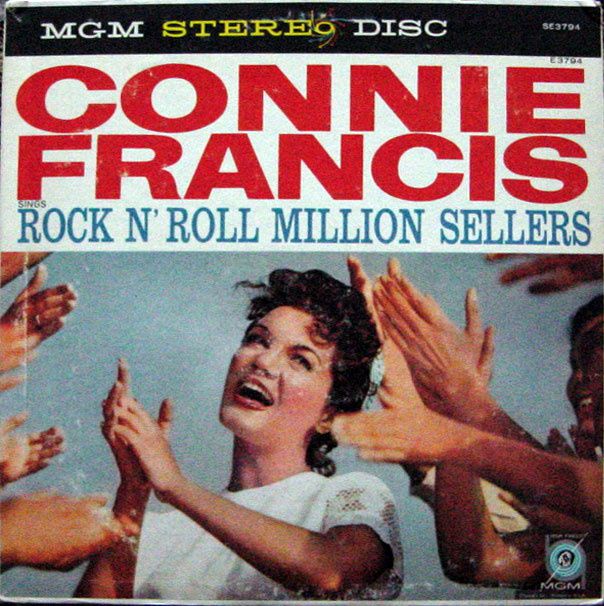 est une des chanteuse américaine les plus populaires de la fin des fifties et début des sixties, elle obtient un grand nombre de gros tube nationaux et internationaux durant cette pèriode avec des titres comme Who's Sorry Now?, Lipstick on Your Collar, Where the Boys Are, Stupid Cupid, Everybody's Somebody's Fool, My Heart Has a Mind of Its Own et Don't Break the Heart That Loves You. Mais bien souvent ses succés sont plus de l'ordre de la chansons de charme que du rock n'roll si ce n'est sa trés bonne reprise de Stupid cupid (même si elle reste infèrieure à la version de Wanda Jackson), mais surtout l'excellent Lipstick on your collar.
De son vrais nom Concetta Maria Franconero, est comme son nom l'indique d'origine italienne et voit le jour dans le New Jersey. C'est à la suite d'une apparition dans le Ford Startime qu'elle change son nom pour Francis. Son premier single Francis obtient en 1955 un certain succés, mais avec les 9 autres simples suivant elle n'arrive toujours pas à obtenir de véritable gros tubes, c'est grâce à l'aide de Bobby Darin qui lui écrit quelques chansons qu'elle finit par se faire remarquer et tourne dans la série tv This is your life.
Lorsque Connie semble complètement décourager par son manque de succés qu'elle enregistre une version d'un titre de 1923 Who's sorry know? pour MGM. En Janvier 1958, elle interprette le titre dans le show tv de Dick Clark l'American Bandstand, et c'est le succés qui vient alors à Connie qui vend trés rapidement plus d'1 million d'exemplaire de son disque, et qu'ellle commence à conquérir le monde en devenant également numéro 1 au hit pararde Anglais.
C'est alors le début de sa série de succés dont certains sont écrit par le duo Neil Sedaka et Howard Greenfield (Stupid cupid, Fallin et Where the boys are) En 1960 elle devient la plus jeune artiste à se produire en vedette à Las Vegas. Elle obtient 2 nouveau N° 1 au hit parade avec Everybody is somebody fool et My heart has a mind of it's own. En 1961 elle anime son show tv sur ABC télévision The Kicking sound around. En 1962 elle apparait au Ed Sullivan show avec Johnny Halliday dans un show au Moulin rouge de Paris, en 1963 elle chante pour la reine Elisabeth 2 au théâtre de l'Alambra de Glasgow. En 1967 Connie à obtenu 40 hits dont 3 numéros 1. Elle n'obtiendra plus de gros tubes durant les décennies suivantes, et se tourne vers la country music.
Pour un amateur de rock n'roll la complète de Connie Francis est dispensable par contre son excellent album Connie Francis sings Rock n'roll million sellers MGM SE 3794 doit être acheté, en effet il ne contient que des rocks. Son style n'est pas explosif mais son talent d'interprette est tel qu'on ne peut qu'adorrer ce lp il contient pour moi le meilleur de Connie soit : Heartbreack hotel, Tweedle dee, I almost lost my mind, I hear you knockin', Just a dream, Don't be cruel, lipstick on your collar, Sincerely, Ain't that a shame, Silhouettes, I'm walkin' et It's only make believe.Elle y interprette avec un grand talent des titres du répertoire d'Elvis Presley, comme des titres de groupes Doo wop ou de Fats Domino.
Connie Francis - Stupid cupid
Connie Francis - Sincerely


Connie Francis - Lipstick on your collar
Connie Francis - stupid cupid live 1959