3 juin 2009
3
03
/

06
/

juin
/

2009
18:54
Les Bell Notes est une des formation de Rock n'roll blanc les plus interressantes de la fin des années cinquantes.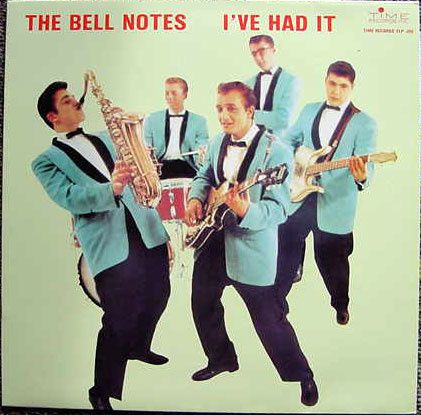 Elle est originaire de New York, plus précisément Long Island formé de Carl Bonura chant et saxophone, joh Casey à la batterie, Ray Ceroni chant et guitare, Lenny Giambalvo à la basse et Peter Kane au piano. C'est grâce au disk Jockey Alan Frederick de Long Island qui les fait jouer dans un de ses Record hop qu'ils se font remarquer et qu'ils signent un contrat pour Time records. Trés rapidement obtiennent un gros tube en mars 1959 avec l'excellent rock I've had it (N°6 dans les charts). Puis ils enregistrent d'autres trés bons simples comme You're big girl know, Old Spanish town et White Buckskin sneakers dont certains se classeront dans les charts.
Ensuite ils signent chez Autograph records en 1960 ou ils enregsitre un simple Little Girl in Blue .
Ils signent ensuite chez Madison records ce qui leur permet d'avoir de nouveau deux tubes avec Shortnin' bread et Friendly Star.
Ce trés bon groupe de Rock n'roll, aujourd'hui méconnu mérite d'être redécouvert, et l'achat de l'album I've had it Time record TLP - 202 compilant la quasi totalité de leurs enregistrement de 1958 et 1959 sur Time records soit Shortnin' bread, no dice, White bucksin sneakers, She went that away, Old spanish town, Don't ask me why, You're a big girl now, I've had it, be mine, Betty Dear, That's right, Dream street et A sad guitar.
The Bell Notes - No Dice 1959
The Bell Notes I've Had It
The Bell Notes - Buckskin Sneakers And Checkerboard Socks

Bell Notes - Shortnin' Bread