18 mars 2010
4
18
/

03
/

mars
/

2010
22:18
Le double album 32 Rockers & Rollers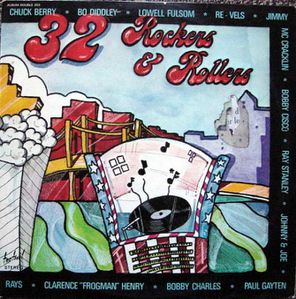 distribué en France par Festival (Festival 203) compile 32 titres classiques du rock n'roll des fifties produit sur le label Chess records (et ses filiales). La première face attaque fort avec le tube hypnotique Bo Diddley du même nom avec la légendaire rythmique de guitare (jungle sound), ensuite nous trouvons 64 000 Dollar question de Bobby Tuggle un genial rock noir avec riffs de guitare blues, Tippety top un doo wop rhythm and blues rapide par The Rays, le rock noir absolument génial et délirant Ain't got no home de Clarence Frogman Henry avec une partie de la mélodie chanté avec le fond de la gorge, Music goes round & round un trés bon rythm n' blues rock teinté de jazz (dans le style de Louis Prima) de Paul Gayten, Tall dark handsome man un rockabilly radical par Bobby Sisco et la face se termine par les deux meilleurs titres de Bobby Charles See your later alligator et aussi le moins connu et pourtant aussi bon You can suit yourself. La seconde face du premier disque commence par Mr Chuck Berry avec son classique Roll over Beetoven, suivi de Rock rock un autre rockabilly incisif de Bobby Sisco, Who do you love une autre grande réussite de Bo Diddley, The walk du bluesman Jimmy Mc Cracklin qui enregistre ici l'un des meilleur rock noir de l'histoire, suivi du tout aussi exitant mais plus rockabilly i can't wait par Ray Stanley avec son incroyable rythmique proche des sabots d'un cheval au galop!!, Over the mountain , across the sea du duo Johnny & Joe amène un peu de romatisme et d'harmonies vocales doo wop dans cette compilation, suivi du doo wop trés rapide The clock par Lee Andrews & the hearts, et on finit par un autre chef d'oeuvre du rock n'roll pur et bien agressif avec Rock this morning chanté par le bluesman Lowell Fulsom.
Nous voici dékjas sur la première face du second lp qui débute fort avec l'énorme tube de 1957 de Dale Hawkins son rockabilly blues medium Suzie Q archi repris par la suite, Oh oh par Eddie Boyd est dans la lignée des titres de Ftas Domino, Flatfoot sam par O wills est un trés bon rock rapide et syncopé avec sax tonytruand, Dime store pony tail par Bobby Dean est un rock rapide avec des riffs de guitare Jazz déchainé un must, Nothin shakin' par Eddie fontaine est un classique des rock blancs violent dans l'esprit des faces Speciality de Little Richard mais sans piano, Sugaree par Rusty York est un fantastique médium rockabilly réalisé à partir d'une composition plus tranquile de Marty Robbins, 1-2-3 est un Rockin' blues du pianiste Piano Red un vocal entre Jackie Wilson et Big Joe Turner avec du piano boogie woogie et une guitare blues incisive, et la face se termine par Say Man un autre classque de Bo Diddley.
La dernière face commence par l'un des gros classique du doo wop rapide de la fin des fifties Book of love par the Monotones, suivi de The Wobble un autre trés bon rock de Jimmy McCracklin, False alarm un exeptionnel et trés original doo wop rapide des Re-vels, le plus medium doo wop Every day of the week des Students, Knee Socks un autre trés bon doo wop des Miracles, But i do l'autre gros tube de Clarence "Frogman" Henry et se termine par Let it rock un rock inégalable de Chuck Berry.
Ce double album à la pochette plutôt étrange est sans doute la meilleure compilation de rock n'roll issu du label Chess records qui est été jamais sortie.


Jimmy McCracklin-
The Walk
Bobby Sisco - Tall, Dark & Hansome Man
False Alarm - Re-Vels
ARGO~5280 -
Ray Stanley
- I Can't Wait

Lowell Fulson - Rock This Morning ~ 1958 Blues Rocker