18 mai 2009
1
18
/

05
/

mai
/

2009
17:50
Lorsque en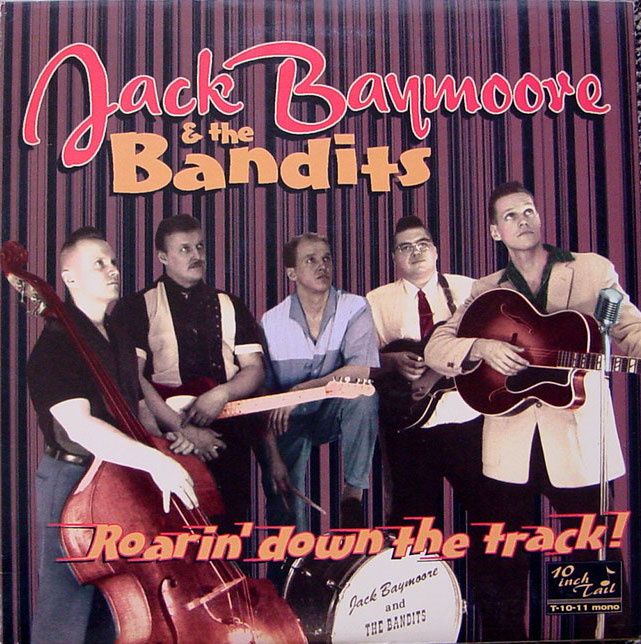 Novembre1996 Jack Baymoore enregistre sur la compilation Tail records Rough tough rockabilly Vol 2 T - 10 - 4 son A V8 boogie, il réalise un des grands classiques du rockabilly authentique des années 90. En effet le titre deviendra un incontournable des DJ's de rock n'roll dans l'europe entière. Il enregistrera également sur cette compilation de rockabilly authentique Tag along / I'm not crazy et Mobilin' baby of mine.
Aprés des tournées triomphales dans les différents festivals de rockabilly en Europe il revient en studios en Septembre et Octobre 1997. Sort alors son second 25 cm Tail records Roarin' down the track Tail T-10-11. On trouve dans ce trés bon lp Chattanooga gal / Ain't never comin' home / Fireball roberts / Rock n'rioll riot / Jump out and fly / Drunk tank boogie / Gonna take my guitar / Too many women / Miss popcorn machine et Baby sue .

Son groupe se compose de Jack Baymoore au chant, Antti Pihkanen à la guitare électrique / Jyrki "JJ" Juvonen à la guitare électrique, Uno Eiving à la contrebasse et Tage Pihkanen à la contrebasse.
Devant l'excellence de ses enregistrements et des ses prestations scéniques il part faire une tournée aux etats unis avec en particulier une trés belle prestation au Viva Las Végas Rockabilly Weekend. Par la suite sort un second 25 cm Big Boy Rock T-10-26 (qui sortira également en cd TRCD 106) avec de nouveaux Rockabilly au son fifties: Losing you / Lonesome and blue / Peggy Lee / A-bomper bop / Okie Lou / Muroc boogie / Jo-Anne / My sweet baby / Big boy rock / Can't stop loving you / BDaisy rock / Sinful woman et Saturday jump.

| | |
| --- | --- |
| | |
Jack Baymoore & The Bandits-Drunk Tank Boogie
Jack Baymoore & The Bandits-Mobilin' Baby Of Mine
Jack Baymoore & The Bandits-Jump Out & Fly
Jack Baymoore & The Bandits-Rock 'n' Roll Riot
Jack Baymoore & The Bandits-Miss Popcorn Machine
Jack Baymoore & The Bandits A-V8 Boogie

Jack Baymoore & The Bandits-AV8 Boogie