11 mai 2009
1
11
/

05
/

mai
/

2009
20:53
L'histoire des Crickets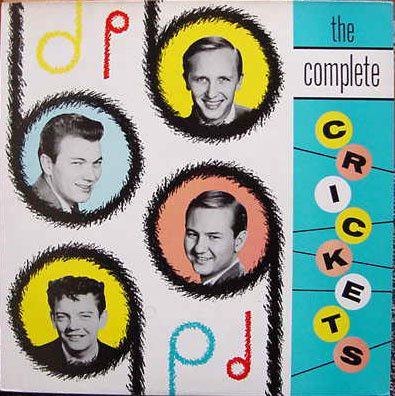 commence en Avril 1957 lorsque Jerry Allison, Joe B Maudlin et Niki Sullivan signent le contrat d'enregistrement pour That 'll be the day. Le leadeur du groupe est à l'époque Buddy Holly, mais comme il a déjas enregistré le titre pour Decca antèrieurement, sous son nom et qu'il serait illégal de le réenregistrer avec le même nom pour un autre label, de ce fait tout les titres de cette session sortiront sous la forme d'un lp au nom des Crickets et non de Buddy Holly. Cet album légendaire sera composé de classiques du rock n'roll comme Maybe baby, Oh Boy et bien sur That'll be the day ecrits par Buddy et ses Crickets.
Lorsque Buddy Holly quitte les Crickets pour une carrière solo, Ils sont rejoint par Earl Sink (qui a participé dans le passé à des formations country comme celles de Tommy Aslup ou de Ferlin Husky). En Février 1959 (avant l'accident tragique de Buddy) Les 4 Crickets signent dans les studios de Norman Petty à Clovis (Nouveau Mexique) Love's made a fool of you (reprise d'un succés de Buddy Holly) et Someone someone (deux excellents pop rocker). En Mai 1959 ils font deux sessions dans les studios de Decca de Los Angeles d'ou sortiront l'énorme classique du rock I fought the law du début des sixties (repris entre autre par Bobby Fuller) mais également A sweet love, Time will tell et When ask about love (d'excellents pop rockers), à la fin du moi ils enregistrent dans le Bell sound studio de New York 4 autres petites perles du rock n'roll fin fifties comme Deborah, Just this once, Ting a ling (reprise d'un classique qu'ils interpretté avec Buddy au début de leur carrière) et Why did you leave.
En Novembre 1959 ils repartent en studio pour mettre en boite en deux sessions Great balls of fire (reprise stylisée par le style particulier des Crickets de Jerry Lee lewis) Rockin' Pneumonia (reprise de Huey Piano Smith) et les trés bons Smooth Guy et After it's over. On peut noter que dans les sessions à partir de Mai 1959 Sonny Curtiss s'imposecomme nouveau leadeur, les sessions de Mai se verront agrémentées du pianiste Duddley Brooks. Mais Curtis doit partir pour 2 ans de service militaire.
En Aout 1960 ils enregistrent sans Curtis leur dernière session pour Coral dans les studios Liberty de Los Angeles, il en sortira le trés bon Donchka know, et une reprise de Buddy holly Peggy Sue got a married. Cette session verra l'adjonction de David Box (vocal et guitare) et Ernie Hall à la guitariste solo. On peut noter aussi que Allison participera fin 1959 et début 1960 à des sessions légendaire comme celle du Three steps to heaven d'Eddie Cochran, et du Dreamin de Johnny Burnette.
Ils classeront dans les charts quelques titres comme Loves made a fool of you, When you ask about love et Baby my heart. Les Crickets sortiront à l'époque le lp In the Style with the Crickets.
La totalité des enregistrements Coral des Crickets sont présent ssur le lp Charlie CR 30226
After it's over, Smooth guy, More that i can say, Baby my heart, So you're in love, Someone someone, Great balls of fire, A sweet love, Time will tell, Just this once, I fought the law, When you ask about love, Donchka know, Peggy sue got a married, Rockin pneumonia, Deborah, Ting a ling, Love's made a foll of you, Smooth guy et Why did you leave?

i fought the law- the crickets
rockin' pneumonia and the boogie woogie flu- the crickets
The Crickets - Deborah
The Crickets - Ting-A-Ling
The Crickets.....When You Ask About Love

The Crickets - In Style - LP - Part 1
This album was recorded after Buddy Holly died in 1959 and was released in 1960.
A awesome follow-up to THE CHIRPING CRICKETS.
Here´s the Original Tracklist (Part 1 of 3)
1. More Than I Can Say
2. Rockin' Pneumonia And The Boogie Woogie Flu
3. Great Balls Of Fire
4. Ting-A-Ling
The Crickets EP 1. Great Balls Of Fire 2. Don´t Cha Know 3. It´s Too late 4. Baby My Heart


The Crickets - In Style - LP - Part 2
Original Tracklist (Part 2 of 3):
5. Just This One
6. Deborah
7. Baby My Heart
8. When You Ask About Love


The Crickets - In Style - LP - Part 3
Original Tracklist (3 of 3):
9. Time Will Tell
10. A Sweet Love
11. I Fought the Law
12. Love's Made A Fool of You