4 novembre 2008
2
04
/

11
/

novembre
/

2008
11:16
Johnny Preston est un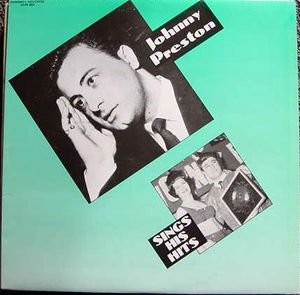 chanteur de Rock n'roll connu essentiellement pour son énorme hit de 1959 Running Bear (iécrit par J.P Richardson alias The Big Bopper), pourtant Johnny nous laisse également une suite de Rock tout aussi interressant influencé par le rhythm and blues, le Rockabilly et le black Rock n'roll.
Johnny est né à Port Arthur, il commence sa carrière musicale au sein du groupe The Shades (au répertoire rhythm and blues). C'est un ami du Big Bopper, qui lui écrit entre autres avant la tragédie de Février 1959 Running Bear. La chanson est enregistrée au Gold star studio de Houston en 1958, le producteur est Bill Hall, pour cette session Johnny est au chant, Link Davis au Saxophone, Big Bopper, George Jones et Bill Hall font les choeur (type doo wop) des indiens. Johnny signe en Aout 1959 chez Mercury records, il obtient un gros hit national avec Running bear (1 million de disque vendu), le titre devient N° 1 en grande Bretagne l'année suivante. Son second hit en 1960 est Craddle of love écrit par Jack Fauteree et Wayne Gray, et il obtient encore cette année là un autre gros tube avec Feel so fine (qui fut aussi un tube pour le duo Shirley and Lee durant les fifties). Johnny fait "dans la foulée" une tournée en Grande Bretagne avec Freddy Cannon et Conway Twitty.
Entre 1959 et 1960 il fera des apparitions tv à l'American bandstand, le DC Balto dance show, le milt Grant show et le Buddy Dean show.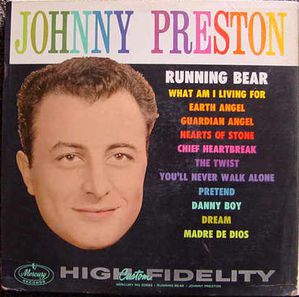 Durant son contrat chez Mercury il fera une série de titres particulièrement interressant comme Leave my kitten alone, Charming Billy, i want a rock n'roll guitar, All around the world, I'm starting to go steady with the blues, Heart of stones (tube des fontanes sisters durant les fifties), The Twist (reprise du méga tube de Chubby Checker repris de Hank Ballard).
Ensuite Johnny quitte Mercury pour Imperial et Kapp.
L'ensemble de ses superbes faces Mercury sont réunies sur l'album Johnny Preston sings his hits de Gunshot records (Gun 002) qui contient la totalité des titres précités plus d'autres comme Just little boy blue, She Once belongued to me, My heart knows, Do what you did, Up in the air, Broken hear anonymous, Willie and the Hand jive (reprise du succés dans le style de Bo Diddley de Johnny Otis), The Angel gave you to me, I've got my eye on you et All around the world (reprise de Little Richard). Cette album est trés exitant par ce qu'il compile que des rocks (aussi bien des rapides que des médiums).
Pour ma part j'ai également acheté son premier album original Mercury MG 20592 appelé tout simplement Johnny Preston qui contient Running bear, Heart of stone et The twist. Les autres titres sont également trés interressant comme les doo wop Earth Angel (reprise du méga tube de 1955 des Penguins), Guardian angel, une reprise du Danny boy (un des gros succés de Conway Twitty) le trés bon Chief heartbreack (une autre composition de Big Bopper) et d'autres titres plus calme.
Craddle of Love - Johnny Preston
Running Bear - Johnny Preston
Feel so fine - Johnny Preston
Up in the air - Johnny Preston
Charming Billy - Johnny Preston
Sitting here crying - Johnny Preston
Just a little boy blue - Johnny Preston
Do what you did - Johnny Preston
She once belongued to me - Johnny Preston
Heart angel - Johnny Preston

Live 2000's Johnny Preston chantant Stagger Lee (de Loyld Price ) au Club 57