2 novembre 2008
7
02
/

11
/

novembre
/

2008
19:13
Ersel est aussi célèbre pour une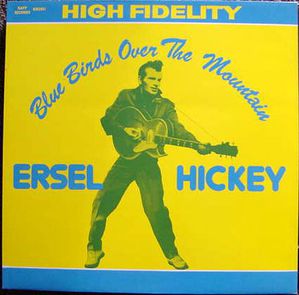 photo de lui tenant sa guitare (qui a fait de lui un icône de l'esthétique rock n'rollienne) que pour ses titres dont son gros tube Bluebird over the Mountain. Il est né à Brighton prés de New York, et à l'age de 15 ans il commence à voyager avec sa soeur qui est une danseuse exotique. Il finit par se fixer à Columbus (Ohio) c'est dans cette ville qu'il cotoie des groupes de rhythm and blues et commence à chanter avec certain d'entre eux. En 1951 il atteind la seconde place d'un concours de chant amateur, et en 1954 il est séduit par I don't care if the sun don't shine. chanté par Elvis Presley . Cette révélation le pousse à enregistrer son premier simple sur Fine records Then i'll be happy (la reprise d'une vielle chanson) / Baby you're good (une composition d'Ersel).
A la suite d'un Show à Rochester il rencontre Phil Everly (un des Everly Brothers) et lui parle de son désir de devenir un chanteur professionnel. Phil lui demande si il peut lui interprétter une chanson, Le soir même Ersel écrit Bluebirds over the mountain, le lendemain Phil lui dit à l'écoute du titre "C'est un hit!!!".
Le lendemain, Ersel part en bus pour Buffalo pour se faire photographier avec sa guitare au "Studio of the stars" de Gene Laverne's (il s'agit de la fameuse photo avec sa guitare. Laverne le conseille d'aller voir Mike Corda. Mike est emballé par la chanson "Bluebird over the mountain" il fait enregistrer Ersel au National studio de New York, avec Jimmy Mitchell à la guitare et lui même à la basse. Ils enregistrent aussi Hangin' around ou Mitchell fait les percusions sen tapant sur la caisse de la guitare. De retour à Buffalo, Ersel se fait remarquer et chante dans plusieurs lieux comme le Glen Casino. Joe Sherman de Epic records est emballé par la démo, et signe Ersel. En Janvier 1958, Ersel réenregistre le titre, et le 12 Mars, il en enregistre deux autres simple You threw a dart / Don't be afraid of love et People gotta talk / I can't love another. Le 20 Mai il enregistre 3 autres chansons Lover's land, le génial rockabilly Goin' down that road et Due Time suivi d'une autre session en octobre 1958 durant laquelle il met en boite You never can tell(titre à la mélodie particulièrement réussie et coécrite avec Al Lewis qui a participé aussi à l'écriture de Blueberry Hill de Fats Domino) Wedding day et Roll on the river. Lewis qui est aussi créateur d'un label avec Don Kishner (futur manager des Monkees) publie You never can tell .
Les différents simples d'Ersels deviennent rapidement des tubes en Californie. En Septembre 1959 il enregistre Love in bloom, en Décembre What do you want (un gros tube de Adam Faith dans le style de Buddy Holly). En Avril 1960 Ersel fait sa dernière séance pour Epic avec Stardust brought me you. Le contrat qui lie Ersel à Epic tombe à sa fin, et il en profite pour devenir auteur, il écrit durant la décénie suivante pour des chanteurs comme Jackie Wilson, Lavern Baker.
La totalité de ses titres Epic sont réunis sur l'album Kapp 2601 Blue Birds Over The Mountain, soit 16 titres dont 2 versions de Blue birds over the mountain (la pochette à évidemment sur son recto la fameuse photo légendaire d'Ersel). Nous trouvons: Going Down that Road, Love in bloom, Wedding day, You threw a dart, You never can tell, Don't be afraid of love, I guess you could call it love, What do you want, Hangin around, Another wasted day, Stardust brought me you, Blue birds over the mountain, lover's land, teardrops at dawn, Self made man et une version inédite de Bluebirds. Même si Going down that road est un rockabilly sauvage et Hanging around un rock rapide le reste des titres sont plutôt des médium rocks ou des pop rockers.


Bluebirds over the mountain - Ersel Hickey
You never can tell - Ersel Hickey
Goin' down that road - Ersel Hickey
You threw a dart - Ersel Hickey
Another wasted day - Ersel Hickey
I guess you could call in love - Ersel Hickey
What do you want - Ersel Hickey
Stardust brought me you - Ersel Hickey

Hangin' around - Ersel Hickey