10 octobre 2008
5
10
/

10
/

octobre
/

2008
22:59
Bill Browning est un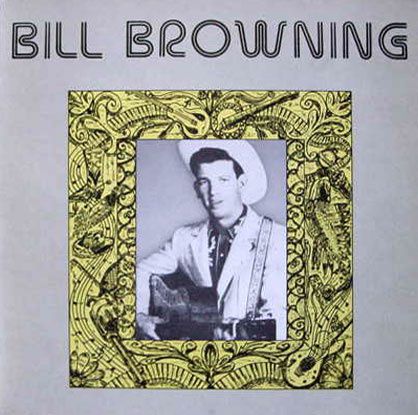 musicien de country hillbilly. En 1955, il part pour Cleveland (Ohio) et forme ses Echo Valley Boys, il passe alors régulièrement au Circle Theatre Jamboree. Mais c'est en 1957 qu'il enregistre avec son groupe pour Island records ses incontournables faces de rockabilly avec
washmashine boogie
,
ramblin' man
,
hula rock
etc...
Les 12 titres qu'il fit pour le label sont heureusement réunie sur le lp Esoldun RR 2019. Les 3 titres précédemment cités mais aussi
Answer your telephone
,
sinful woman
,
love left over
,
borned with blues
,
Don't push don't shove
,
down in the holler where sally lives
,
gonna be a fire
et
dark hollow
(tous présent sur le lp) sont toutes des compositions de Bill. Elles sont étonantes par leur inventivité mélodique mais aussi représentent un pont réussi entre le hillbilly et le rockabilly.
Bill Browning - Washmashine boogie
Ramblin' man - Bill Browning
Answer your telephone - Bill Browning
Sinful woman - Bill Browning
breacking hearts - Bill Browning
Down in the Holler where Sally lives - Bill Browning
BILL BROWNING - LOVE LEFT OVER
BILL BROWNING - I´M GONNA BE FIRE