24 juillet 2008
4
24
/

07
/

juillet
/

2008
07:49
Ballard and the Midnighters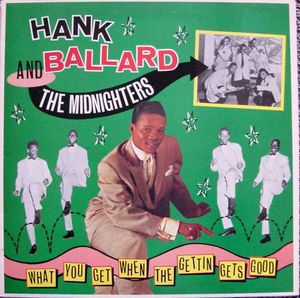 est le groupe phare du label King/Federal durant les 50's et le début des 60's. C'est
Johnny Otis
en 1951 qui découvre la formation "
The Royals
", grâce à lui ils enregistrent en 1952 sur King "
Every beat of my heart
" qui devient un hit . Le chanteur leader de l'époque
Lawson Smith
quitte le groupe pour son service militaire, il est alors remplacé par
Hank Ballard
. Dés 1953 le groupe obtient un premier hit national avec "
Get it
", suivit en Avril 1954 d'un énorme tube national avec "
Work with me Annie
" (le style du groupe est déjas présent : instrumentation rhythm and blues de grandes qualitée soutenue par des accompagnements vocaux exeptionnels le tout sur un rythme soutenu rock n'roll). Cette année là les hits se succédent "
Sexy Ways
" (plus rock dans l'esprit mais également plus médium dans le rythme), "
Annie had a baby
" (avec une mélodie qui inspirera le génial "
Finger Poppin time
" quelques années plus tard) et "
Crazy Lovin'
". Le groupe domine donc les charts en cette année 1954,en 1955 pas de hit et pourtant ils enregistrent la ballade blues "
It's love baby
" et un rock n'roll dans le style des Five Keys "
Rock n'roll wedding
". En 1956, ils enregistrent le génial rock noir "
Tore up over you
" (qui sera repris par
Ray Campi
en rockabilly durant les 70's).
Charles Sutton
quitte le groupe pour être remplacé par
Lawson Smith
en 1957 et ils enregistrent le blues gospel "
In the Doorary crying
" et le médium rock "
Let'em roll
". 1958 est une année capitale pour le groupe,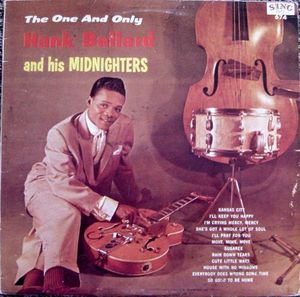 Sonny Woods
quitte les Midnighters et se trouve remplacé par
Norman Thrusher
, et surtout ils enregistrent "
The Twist
" (une composition qui sera un des plus gros hit de l'histoire mais pas interprété par eux, mais par
Chubby Checker
"). King publiera le titre en face B du trés beau slow "
Teardrop on your letter
", ce titre sera encore un méga tube pour les
Midnighters
en 1959, de même que "
The twist
" (mais sans comparaison avec le succés de la reprise de
Chubby Checker
en 1961), ils enregistrent aussi en 1958 une reprise de "
Kansas city
" de
Lieber
et
Stroller
. En 1960 ils enregistre une véritable perle de doo wop sixties avec instrumentation rhythm and blues "
Finger poppin' time
". En 1960 et 1961 Les
Midnighters
font de nombreux hits comme "
Let's go, let's go, let's go
" (avec une petite intro de guitare au son Rockabilly), "
Hootchi hootchi koo
", "
let's go again
", "
The float
"... En dehors de cette série de gros tubes, les
Midnighters
enregistrent deux reprises de grande qualité avec "
Beep blue sea
" des
Dominoes
et surtout la version rhythm and blues du rockabilly écrit par
Rusty York
sur Chess "
Sugaree
"(un noir qui reprend de la musique blanche !!)
Au niveau lp j'ai acheté l'album
The One and Only
Sing 674 qui contient les titres:
Kansas city, I'll keep you happy, I'm crying mercy, mercy, She's got a whole lot of soul, I'll pray for you, Move, move, move, Sugaree, Rain down tears, Cute little ways, house with no windows, everybody does wrong some time
et
So good to be home,
album sortie en 1959 et contenant des enregistrements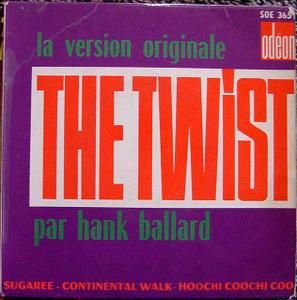 datant de Novembre 1958, Mars 1959 et Mai 1959.
Je me suis également procurer l'indispensable album Charly CRB1090 What you get when the gettin' gets good qui permet d'entendre 16 de ses tubes mettant en évidence le génie de Hank. On trouve Work with me Annie de (Janvier 1954), Sexy ways (Avril 1954) Don't change your pretty ways (Mars 1955), Rock n'roll wedding (Juin 1955), Open up the back door (Decembre 1955), Rock, granny, roll (Decembre 1955), Tore up over you (Mars 1956 repris par Ray Campi dans les 80's chez Rollin rock), Is your love for real? (Mai 1957), The twist (Novembre 1958), Teardrops on your latter (Novembre 1958), Kansas city (Novembre 1958), Sugaree (Mai 1959), Finger poppin' time (Mars 1960), Let's go let's go, let's go (Juillet 1960), What is this i see? (Mars 1961), et I'm gonna miss you (Mars 1961)
Je n'ai pu résister à la tentation d'acheter le ep français Odéon SOE 365 (label qui distribue en france les enregistrement King records) qui compile 4 des gros tubes de Hank Ballard et ses Midnighters soit The Twist (évidemment), Continental walk, Hoochi coochi coo et Sugaree.
Hank Ballard and the Midnighters - Let's go, let's go, let's go