23 juillet 2008
3
23
/

07
/

juillet
/

2008
14:49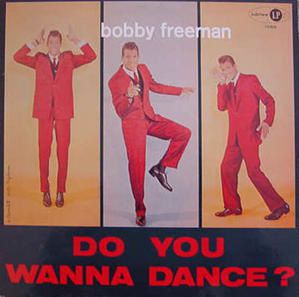 Bobby Freeman est une des figures marquantes du rock n'roll noir de la fin des fifties et du début des sixties. Bobby est originaire de San Fransisco, il commence sa carrière à l'age de 14 ans au sein des Romancers puis au sein des West Coast Vocaleers.
En 1958 il obtient son premier méga tube avec Do you wanna dance, ce titre restera longtemps classé dans les charts Rhythm and blues et Pop. Il obtiendra également cette même année deux autres tubes avec un autre rock "Betty lou got a new pair shoes et le médium Need your love. Par la suite il devra attendre 1964 pour atteindre de nouveau le sommet des charts avec C'mon and swim .
Un tel succés va pousser Jubilee records à sortir un lp de Bobby ce sera le Do you wanna dance Jubilee 1086 qui contient non seulement son tube Do you wanna dance mais aussi une série de petites perles du rock n'roll noir et de ballades rhythm and blues comme When you're smiling, Little girl do you understyand, Edd tide, Mardi gras rock, A love to last a lifetime, On the sunny side of the street, I believe, Responsible, Because of you, Good lovin' is what i need et You'll never walk alone.
Mais l'ensemble de ses faces Rock n'roll de la fin des fifties, ne peuvent se limiter qu'à ce simple album en effet nombreux sont les autres classiques mis en boite par Bobby. Pour cette raison l'achat de la réédition de l'album Jubilee avec un design proche de l'original s'impose, car en effet il contient non seulement certains titres du lp en question, mais aussi d'autres gros classiques de Bobby dont Big Fat woman, Betty Lou got a new pair shoes (un autre summum du rock noir), The mess around (un rock de 1961), She said she want to dance (suite du Do you wanna dance) Shame on you miss johnson, Baby what would you, Mary Ann Thomas (1959), Love me, Sinbad, Shimmy shimmy (1960), Be my little chick- a-dee, The swim (un autre de ses tubes mais de 1964) et Hey Juanita.
http://www-v3.deezer.com/music/playlist/bobby-freemann-28534296
Bobby Freeman - C'mon and swim (60's)