22 juillet 2008
2
22
/

07
/

juillet
/

2008
14:14
Les Eldorados (dont le nom est en référence aux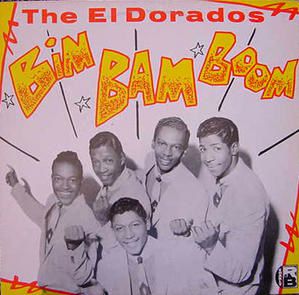 modèles convertible de la légendaire marque Cadillac) est le second vocal group vedette du label Vee Jay spécialiste du style durant cette première moitier des fifties, derrière les Spaniels. Les Eldorados ont un style opposé aux Spaniels, en effet ils sont beaucoup plus des adeptes du rhythm jump bien relevé et moins spécialistes des mélodies romantiques que les Spaniels.
Les Eldorados se forme à l'école Englewood de chicago en 1952, Pirkie Lee Moses Jr réunit alors Louis Bradley (ténor) Jewel Jones (Tenor), James Maddox (Bariton) et Robert Glasper (Bass), ils s'appellent alors les Five stars. En 1954 ils signent chez Vee Jay sous le nom des Eldorados et enregistrent leur premier disque:
My loving baby / Baby i need you
qui sera un tube régional. Devant l'énorme succés des Midnighters avec "
Annie had a baby"
Vee Jay fait enregistrer aux El Dorados leur version sous le titre "Annie's Answer" et durant la même session ils enregistrent
One More Chance
qui sortira couplé avec
"Little miss love".
C'est en 1955 qu'ils enregistrent leur gros tube et classique
"At my front door"
(N° 2 dans les charts Rhythm and blues). Ce trés gros succés va leur permettre d'enregistrer leur premier album. Ils enregistrent aussi le simple "
I'll be forever loving you / I began to realise
et un second qui fera aussi un succés
"Rock n'roll for me / Now that you've gone"
. En 1956 ils enregistrent deux autres simples
A fallen tear / Chop ling soon
et
There in the night / Bim bam boom
. Voici l'histoire des enregistrements légendaires des Eldorados sur Vee Jay. Tous sont présent sur l'abum Charly records "
Bim Bam Boom
"
SPANIELS "EVERYONE'S LAUGHING" EL DORADOS "BIM BAM BOOM
The El Dorados--At my Front Door live 1996