21 juillet 2008
1
21
/

07
/

juillet
/

2008
20:09
Wee Willie Harris est né à Londres, dés son adolescence il s'interresse au boogie woogie, En 1952 il enregistre u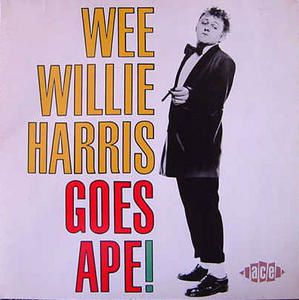 ne maquette de Frankie and Johnny ou déjas son style plein de sonorités rhythm and blues est présent.
En 1955 il enregistre deux reprises de Rock noir "Riot in cell block N°9" (ecxcellente) et "ko ko mo". En fin d'année 1956 il devient une des coqueluche de Soho quartier dans lequel il se fait une réputation en jouant chaque soir dans un pub différent. Doucement son style se rapproche de celui de Little Richard, avec toute sa frénesie incontrolable.
Le club qui à Londres sera synonyme de Rock n'roll à partir de Tommy steele et Terry Dene est le 2 "I"'s de Paul Lincoln. Willie commence à se faire une grosse réputation de showmen grâce à ce club dans lequel il arrive habillé d'une veste et d'un pantalon rouge auquel s'ajoute des chaussettes roses. Willie obtiendra d'ailleur un succés avec son rock rapide "Rockin' at the 2"I"s enregistré en Octobre 1957. En 1957 on peut aussi noté son "Snack dab in the middle et Love Bug crawl (2 titres déjantés et excellents), en 1958 il reprend magistralement "No chemise please" qu'il interprette souvent en tenue de Tarzan!!! De 1959 on peut noter surtout sa décapente version du I go ape de Neil Sedaka, et en 1960 sa trés bonne version de "Wild One". Sans doute par ce que Jack Good ne l'as pas fait chanter dans son show tv "Oh Boy" le trouvant trop décalé, lui préférant Marty Wilde et Cliff Richard, sa carrière s'arrêta au début des sixties face aux succés de ces deux derniers. Tout les titres étonnants de Wee willie Harris sont présent sur l'album ace "Goes ape!"

WEE WILLIE HARRIS - 'Rockin' At The Two I's' - 1957 78rpm
WEE WILLIE HARRIS & SILVER BULLETS:I GO APE
WEE WILLIE HARRIS - I go ape
Wee Willie Harris - Love Bug Crawl