29 octobre 2010
5
29
/

10
/

octobre
/

2010
22:37
The 2-Tones est un groupe de rock n'roll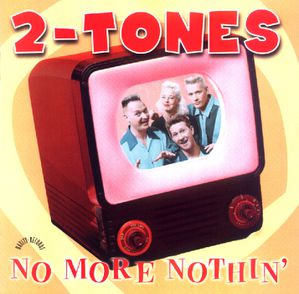 et rockabilly de la scène hollandaise des années 2000 's formé par Tony "SwingTony" Gilde au chant et guitare solo, Jolanda "Devil Woman" De Regt à la contrebasse, Erik "Enrico" Knulst à la guitare ryhmique et banjo et
Rik "Ricky" Lingier à la batterie. Chacun ayant fait partie antèrieurement d'autres formations comme The Starlets, Bobo's, Swingtones et The Donuts.
C'est sans doute grâce à leurs participations à des groupes de style différents que le Cd Raririty records (C192657) No more nothin' regroupe dans les 24 titres présent enregistrés par le groupe sont surtout des titres de rockabilly, mais nous trouvons également des titres de Rock n'roll, de jump, de western swing, de country et de jive. Mais tout ces titres (essentiellement des covers) sont joués incontestablement avec beaucoup de talent mais aussi et surtout avec une véritable personnalité et un style personnel reconnaissable.
Nous y trouvons les titres You can do no wrong (Carl Perkins), Standing on a rock, Tennessee toddy (Marty Robbins), You're there (Skeet McDonald), Milk 'em in the morning blues (Tennessee Ernie Ford), Getting tired of me (BR 549), Buzz buzz (Bobby Day), One toothbrush (Phil Trigwell and the Deputies), Rockin' rollin' stone (Andy Starr), Honkey tonk queen (Bobby Hankins), If i ever, Cincinnati lou ( Merle Travis), Chicken shack boogie (Amos Milburn), Ready eye, No more nothin' (Zeb Turner), Take a boogie real lowe, Don't fuck around with love (The Blenders), Cherokee boogie (Johnny Horton), Doggone lie (Autrey Inman), Mister Whiz (Jerry Reed), Pretty little lady (The Keytones), I wonder if you wonder (Jimmy Kirkland), Head home (Charlie Gracie) et Something i said (Lew Williams).