13 mai 2010
4
13
/

05
/

mai
/

2010
20:56
C'est à la Fnac que je suis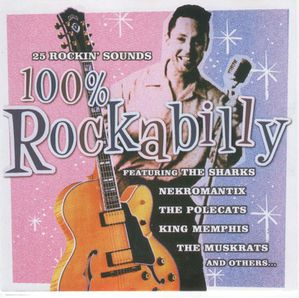 tombé sur ces compilations CD de Revival Rockabilly sous le nom un peu racoleur 100% Rockabilly qui sont sorties sur l'énigmatique label "Records" ( ref 2585 pour le vol 1 et TCD 2822 pour le vol 2) mais sous licence Nervous records.
Le 100% Rockabilly 25 rockin tracks il s'agit d'une compilation de néo rockabilly bien speed nous trouvons majoritairement des groupes britaniques du genre comme The Jets qui reprennent le rockabilly 1950's Slippin' in (Lou Millet et Eddie Bond) The Blue Cats avec le néo rockabilly Frankfurt special, Restless avec le bel hommage à Gene Vincent Black Cat, The Sharks avec leur reprise de It's all over now des Rolling Stones, The Polecats avec le classique Marie Celeste, The Muskrats avec Muskrat(un solide néo rockabilly trés original avec une rythmique guitare proche de Warren Smith sur Uranium rock), Frantic Flinstones (un groupe de psychobilly londonien) avec leur titre 44 qui est un bon rockabilly, Sonny West avec le médium Relentless à la mélodie proche de Stray Cats Strut, Darrell Higham avec sa splendide version du rockabilly 1950's Revenue man de George Jones, The Rattlers avec Mine all mine (avec une mélodie rappelant Tornado de Dale Hawkins), Tim Polecat (ancien chanteur des Polecats) avec Guardian angel (un titre moderne assez interressant mais aussi une sacré bizarrerie avec des sonorités dance et varietoche en intro!!!), the Mean Cat Daddies avec Sign of the times (un titre à la mélodie hypnotique), the Deltas avec London girl, mais aussi des groupes américains comme King Memphis (de Portland) avec Little Joe from Chicago (trés bon titre rockabilly pour amateur de slapping bass), Buzz and the Flyers avec Is it cool (titre assez moderne dans le style des Rockats), The Quakes (formation néo rockabilly /Psychobilly) avec le trés moderne et pop What will they say, Colbert Hamilton (chanteur de Buzz and the Flyers) avec l'excellent titre Bad Reputation, Three Blue Teardrops avec le presque psychobilly Switchblade pompadour, le groupe Danois The Taggy Tones avec Nose Pickin' mama un trés bon néo rockabilly dans le style de Gene Vincent and the Blue Cats et le plus moderne Crazy kid, le groupe Hollandais the Catmen avec le bon rockabilly Gone ridin', mais aussi quatre titres de Psychobilly par deux des groupes phares du mouvement durant les 1980's The Nekromantix avec Rockin' reptile et Mama don't allow (qui est un hillbilly ultra speed assez rigolo) et Frenzy avec I see red et le groupe néo rockabilly the Ricochets et le titre Migrane.
En conclusion ce cd est un excellent témoin de ce que fut le néo rockabilly des 1980's à posséder par ceux qui été trop jeune pour connaître ce genre particulier, mais aussi à conseiller à tout amateur de rock.
Le 100% Rockabilly Vol.2 (21 more rockin' sounds) (avec Gene Vincent sur le verso de la jaquette???) est une compilation de groupes de rock n'roll danoise soit the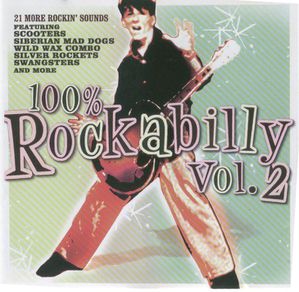 Taggy Tones (que nous retrouvons ici) avec de bonnes covers de His latest flame (d' Elvis Presley), Folsom prison (de Johnny Cash), et la composition Insame (qui est tellement moderne et pop qu'elle en devient indigeste), the Wild wax Combo (avec René Karlson ancien membre des Taggy Tones) avec deux covers sauvages de titres déjas sauvage de Johnny Burnette and the Rock n'roll trio soit Train kept a rollin' et Please don't leave me, et une belle reprise du rockabilly classique fifties Woodpecker rock (de Nat Couty), the Scooters avec une cover sans originalité de See your later alligator (de Bobby Charles surtout popularisé par Bill Haley) une version "Spécial boite de nuit ou Nuit de la Saint Sylvestre" du traditionnel Doodah qui s'avère être un sommet du kitsch, et une cover de l'étrange et amusant Wichdoctor de David Seville (mais ici encore on regrette la production type "Faisons a fête entre amis"), the Silver Rockets (groupe qui se caractérise entre autre par de trés bons passages de sax et la présence de Peter Sandorf des Nekromantix à la guitare) avec des versions assez bien menées de Rip it up (de Little Richard), Ruby Baby (des Drifters mais ici plus inspiré par la cover de Dion) et Sea Cruise (de Frankie Ford), the Swangters (un groupe de néo swing dans le style du Brian Setzer Orchestra avec Jess Rasmussen des Taggy Tones au chant et Peter Sandorff des Nekromantix à la guitare) avec What's the matter et The Swangster , Los Vegas un groupe punk rock avec sonorité rockabilly (ou nous retrouvons Jackob et Emil des Taggy Tones et Paulo Molinari des Wild Wax combo) avec Country song qui est à mon goût un titre moderne mais plutôt bon et une excellente version punk de Jambalaya (de Hank Williams), the Depitors (ou nous retrouvons Kim Nekroman des Nekromantix à la basse) avec le trés bon néo rockabilly à sonorité country Depitor man, the Siberian Mad dogs (dans lequel joue Kim Kixx des Goldless Wicked Creeps à la contrebasse) avec une cover modernisé et sauvage du rockabilly 1950's Slippin' in (connu par Lou Millet et Eddie Bond) et deux titres vraiment garage dans le style des Cramps Alcohol et It don't mean a thing, et the Candymen (avec Jess Rasmussen des Taggy Tones) qui reprennent le classique Rockbilly boogie de Johnny Burnette and the Rock n'roll trio mais dans le style de la cover de Robert Gordon de la fin des 1970's.
The Sharks - It's All Over Now
The Polecats - Marie Celeste
Taggy Tones - Folsom Prison
The Ricochets - "Migraine" (2010)
Wild wax combo - Please don't leave me